Naturalization is the process by which U.S. citizenship is conferred upon a foreign citizen or national after he or she fulfills the requirements established by Congress in the Immigration and Nationality Act (INA).  The Bureau of U.S. Citizenship and Immigration Services (USCIS) processes all naturalization applications and provides the court with a list of candidates selected to be naturalized in Federal Court.  The court does not have the ability to change the scheduled naturalization date.
Upcoming Naturalization Ceremonies & Dates: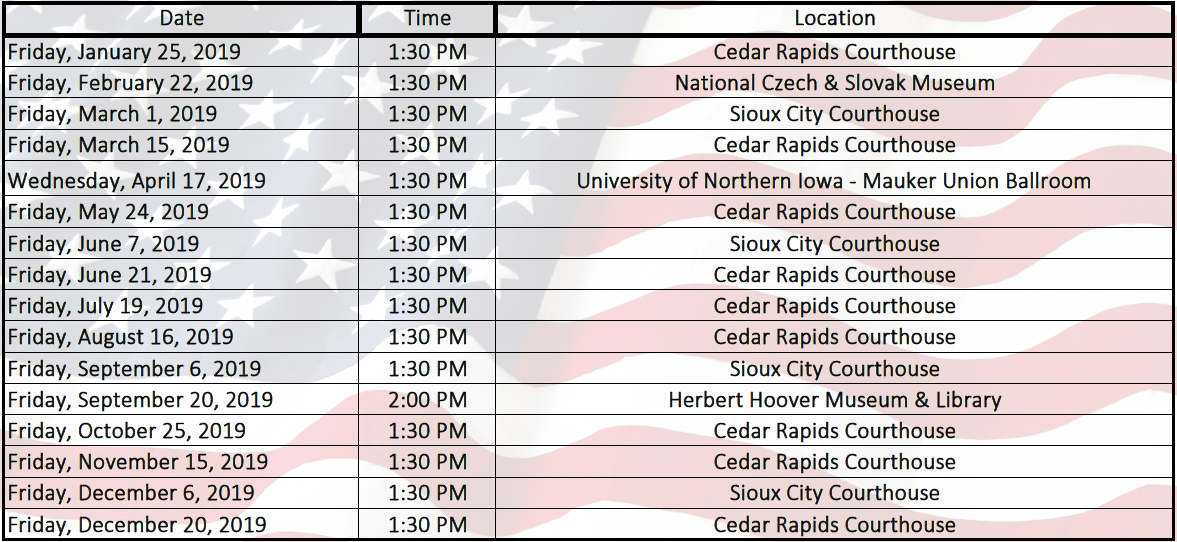 The culmination of the naturalization process is the administration of the Oath of Citizenship.  In the Northern District of Iowa, approximately 600 petitioners take this oath in a formal ceremony each year.  The ceremony may be held at the Federal Courthouse or a nearby designated site.  The ceremony typically lasts for approximately one hour.  Cameras are allowed in the courthouse for this ceremony only.  There will be time to take pictures after the ceremony.  
The only records maintained by the Clerk of Court is a copy of the Petition for Name Change.  For an attested copy of the original, contact the Clerk's Office in the location where you attended the ceremony.  You will need to know the date of the ceremony.  
For specific questions regarding the ceremony, please contact the clerk's office in your location:  Cedar Rapids or Sioux City.
For specific questions regarding the naturalization process, please contact the U.S. Citizenship and Immigration Services.  To schedule an appointment with USCIS, go to INFOPASS.  ***USCIS does not take personal phone calls.***
U.S. Citizenship and Immigration Services Resources: